About Menaka Card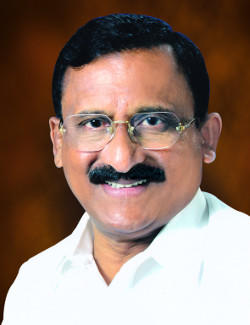 Established in 1980, Menaka Card Private Limited (Menaka) is a leading manufacturer and supplier of Invitations and Wedding Cards in India. Menaka became a private limited company in August 1991 and has been a major player in the invitation card industry. Mr. S. Shangaralingam, a printing technocrat having more than 50 years of experience in the printing industry is the promoter and CMD of Menaka Card Private Ltd. A dedicated and talented workforce is involved to introduce innovations in Menaka.
The development of invitation card industry has been punctuated by a series build a reputation for reliability and quality. Menaka is steadily heading to become the market leader in India by subjecting itself to rigorous standards of quality control. With 40 years of experience in designing and printing, Menaka has a full-fledged infrastructure for effective production. Menaka's latest technology in printing solution enables to offer one-stop service from design to dispatch to all its customers for on time delivery. To further enhance their customer service a 24 hours delivery system has been introduced. Menaka specializes in Screen, Offset printing, Hot foil stamping, Thermography, Embossing, UV coating and all kind of invitations made out of suitable paper, plastic, synthetic etc.
Menaka has a wide range of selection on the basis of Ready made, Exclusive and Customized cards to satisfy all its customers. Menaka has more than 1000 varieties of cards to cater all family, business functions and ceremonies including Wedding, Betrothal, Grahapravesam, Birthday, Upanayanam, Puberty, Jubilee, Sashtiapthapoorthi, Sadhabishekam, Inauguration, Arangetram, Brouchers and Corporate Printing. The main showroom is located at No: 14, Arcot Road, Kodambakkam, Chennai- 600024, India. Now MENAKA has 14 dealers in the states of Tamil Nadu and Karnataka. In response to demand from overseas MENAKA has dealers in Canada. Menaka also has an online service to satisfy their worldwide customers. Menaka practices good business ethics and has developed its own philosophy QSER to meet the requirements of its customers by maintaining Quality, Service, Ethics and Reliability. Menaka considers that customers are God and strives hard to meet the changing needs of the customers.
Our Factory
#1-2-3/5, Thuvarampadu Road,
Sanganankulam, Thisaiyanvilai Taluk,
Tirunelveli District - 627 118